Social distancing violation detection

Social distancing has proven to be a very effective measure for slowing the spread of the coronavirus

Currently, in order to reduce the spread of COVID-19, the CDC recommends that people stay at least 6 feet from each other. Using our AI-powered Behavior Analytics, which recognizes people and their postures in a video image, you can detect violations of predefined social distancing restrictions by analyzing real-time video streams from the camera on your site. 
If a violation is detected, email and text notifications may be sent to the staff in charge. 
All violations are recorded and can be accessed quickly in video footage via search by alarm events. 

Face mask detection

Detect people not wearing medical masks in public areas and organizations where it is mandatory

The tool is based on real-time facial recognition in live video. 
 Upon detection, the system sends an alarm to operators, ensuring they won't miss issues that require immediate attention. Email and text notifications may be sent to the staff in charge as well. 
All violations are recorded and the event video footage is instantly searchable. 

Fever screening camera integration
Axxon One / Axxon PSIM is not medical software and is utilized as front-line check point only; obtained results should later be confirmed by approved medical devices. Body temperature measurement accuracy, the distance and time of measurement, as well as other fever screening characteristics depend on the camera model and their specifications and are not affected by the AxxonSoft software.

Set the temperature threshold and see the results of body temperature measurements superimposed on the video. 
The temperature values are color-coded both in real time and in video footage, e.g. green for normal and red for elevated temperature. Configure automatic scenarios when elevated temperature is detected. You can notify the operator, sound an audio alarm, start video recording, deny access, etc.

Access restriction for employees with fever

The solution is based on the AxxonSoft software integrated with thermal cameras and an access control system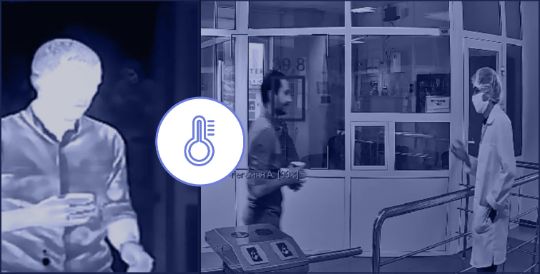 It helps to prevent employees with fever from gaining access to the site.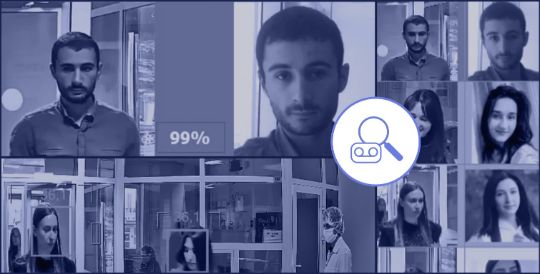 At a checkpoint, a person's face is captured and recognized to identify the employee.
The person's body temperature is measured remotely using 2-channel thermal IP cameras. The video feed from the thermal imager is used to determine body temperature, while the other imager streams standard video for monitoring and face detection/recognition. The dual imager setup helps to avoid false positives caused by hot drinks and other heat sources.
A predefined scenario is automatically executed depending on the result; for example, access is denied to a person with a high temperature, staff is alerted by email or short text about people with fever attempting to access the site, etc.

Body temperature readings are logged for quick search of video recordings and generation of reports that can also include employee data, face images, etc.
Real-time occupancy monitoring

Control the number of visitors entering a site or building

To help people maintain social distancing, supermarkets, grocery stores, drugstores, banks, hospitals and other facilities allow a certain number of customers per square foot to enter. They have to pay a staff member to stand at the door and count people who enter and exit. This approach has several drawbacks: the count may be inaccurate, customers have no idea how long they have to wait to enter, and only one entrance can be open at a given time.
AxxonSoft's people counting tool provides automatic real-time occupancy monitoring based on camera video feed.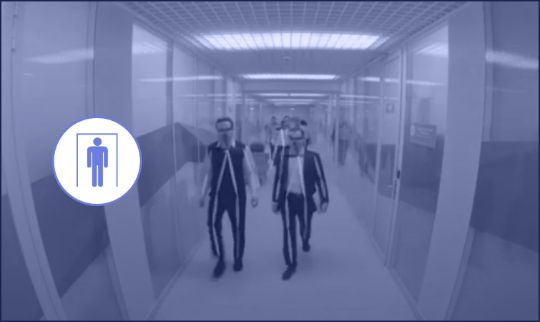 No physical personnel are required to control traffic at the entrance.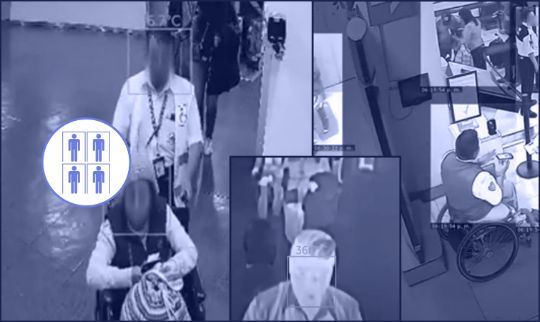 It combines data from multiple doorways.

It is quick to install and easy to configure:
Set two areas in the image
Specify direction of movement: arrival from area 1 to area 2, exit from area 2 to area 1 (or vice versa)
Calibrate the approximate size of a person in the image or use our AI-Powered Object Identification, which accurately detects humans
Install a display panel at the entrance to inform customers whether they can enter or whether the maximum occupancy has been reached and they should wait
Alert staff if the capacity limit is breached
Unlike hardware sensors, AxxonSoft's detection tool handles situations when several people walking side by side enter the store, as well as when several people are moving in different directions at the same time. 
Visit statistics can be accessed through web reports or used in numerous ways through configuration of automatic scenarios.